...Which are the words from this Apple event invitation: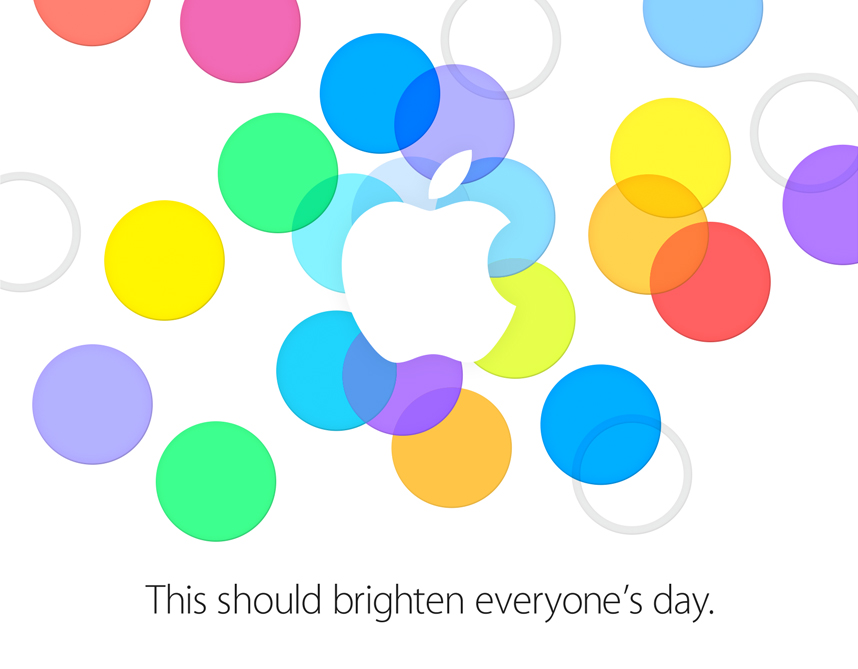 Well... the image is certainly colorful. Certainly denotes that something Apple's releasing is going to have a ton of colors. Could also denote some photography improvements in upcoming iPhones. So, on to predictions!
iPhone:
iPhone 5S (continuing the S on the end of numbers of iPhone iterations for significant improvements in speed, etc.) seems extremely likely.
iPhone 5C (we WERE thinking the C in 5C stood for "Cheaper"... but now I think it stands for "Colors")
We'll more than likely see iOS 7 fully released on the iPhone at the very least. I can NOT wait to see what is going to happen. And I am very excited to get to play with iOS 7 in full very, very soon.
iPad:
iPad with Retina Display: It is certainly possible that Apple will throw in an iPad surprise announcement next week, but I think an October event seems more likely.
iPad mini: Same as above, but add a Retina display and drop the price to $299. Apple needs it desperately.
iOS 7 on iPad: Unless a miracle happens, I don't foresee a iOS 7 simultaneous release on both iPhone and iPad.
Mac:
New Mac Pro: Always a possibility, but I cannot be certain that it'll happen next week as well.
New MacBook Pros with Retina Displays seem almost absurdly likely in time for the holiday buying season, but I don't foresee them talking about and/or releasing these next week either.
AirPort Express with 802.11ac support: Seems likely, and if the price is right I'll probably pick one up for the improved Net speeds on my possible upcoming Christmas gifts.
Mac OS X 10.9 Mavericks: I hope they talk it up and release it same day because I want to be able to read iBooks and iBooks Author books on my Mac, but I do not believe this is very likely either.
Software and Other:
iWork for Mac and iOS is fairly likely to see a total revamp. Thank God for that too, it's getting extremely long in the tooth. Of course, Microsoft keeps getting away with keeping Office nearly the same and selling a 'year' version for $200+ without ever coming up with iOS / Android versions, so who knows.
An Apple version of the Dick Tracy smartwatch, called "iWatch" by those in the press and/or rumor mill, seems likely but it may be October before we see that.
And we can't forget about Apple's take on TV. I hope it comes or is at least previewed next week because September is the traditional Apple "Music / Media Event" month.
Finally, we have the venerable iPods. My pure guess is that this will finally be the year we see the demise of the iPod Classic, and the other iPods as well. They're barely even registering on Apple's radar, so I don't see Apple really doing much of anything. Maybe keeping the iPod touch around at a $149 price point is a good idea but they might just thin the line to only having 1 iPod, or they can put any iPad at all at $199. That would be super cool to see and would pretty much deemphasize the need for an iPod touch at all so maybe we will see that. WHo knows, really. These are just my predictions for next week.